Is there a best time to visit Yellowstone National Park? It depends on who you ask. The truth is, Yellowstone offers a completely different experience as the seasons change.
With that in mind, we've done our research, listened to our guests and discovered that summer and winter are usually the best time to visit Yellowstone with family. These seasons align well with school vacations while still showcasing the stunning contrasts of the land.
But how do you decide which season your family will like more? While it's mostly a matter of personal preference, we've broken down the key factors for each travel season below.
Summer
Summer is the most popular time to visit Yellowstone for families with kids. Phenomenal hiking weather, swimming, rafting and sightseeing are at their most temperate and beautiful. All park facilities are open, though some activities, such as rafting, only start toward the end of June. For kids on school breaks, there's no better way to get outdoors.
June High/Low Temperature: 63° / 34° Fahrenheit
July High/Low Temperature: 73° / 39° Fahrenheit
August High/Low Temperature: 71° / 37° Fahrenheit
Here are some key insights into Yellowstone in the summer.
It's the Yellowstone You Know
Yellowstone's iconic landscapes are most often associated with the park in the summertime. Towering pines stand on the shoulders of massive canyons. Idyllic rivers run through rolling plains. No wonder it's many a photographer's favorite season!
Easy Wildlife Viewing
You'll see a lot of wildlife when you visit Yellowstone in the summer. Among the park's inhabitants are bald eagles, otters, deer, elk and, of course, bison. Bison are everywhere! It's no joke that we have to plan for bison jams when we build our family trips. Bison move in enormous herds that can sometimes create delays.
The Most Popular Travel Time
The summer is incredibly popular for travelers in Yellowstone. You can rest easy knowing this is the preferred travel time for nature enthusiasts and families like yours!
This can also work against you. More traffic can mean competing against other travelers for the best spots in the park. Luckily, Thomson Family Adventures secures all reservations for activities in advance. While families traveling individually have to roll the dice on rafting availability, lodging and other key considerations, our guests have everything squared away well before they arrive.
Expect Thunderstorms
Rain showers and thunderstorms are common in the afternoons. They usually don't take long to pass. Make sure to pack your rain jacket and sturdy boots.
Tips for Making the Most of Your Visit in the Summer
Plan ahead. The easiest way to ensure your trip is jam-packed with enjoyable activities and memorable moments is to work with an expert like Thomson Family Adventures. You'll get your own guide who will lead you on your trip. We'll also secure all of the necessary reservations for you, ensuring you have access to lodging, meals, activities and more that are usually impossible to find months, even a year, in advance.
Arrive early. Thomson gets you into the park early so you can avoid "rush hour." This means more nature to yourself during the morning hours while you're hiking, visiting Old Faithful and more.
Hike! It may come as a surprise, but many visitors in Yellowstone do not spend much time hiking. We've structured our itinerary around this key insight. When you hit the trails winding through hot springs, mud pots and other thermal features, you'll leave the crowds behind. Your family's connection with the rivers, streams and canyons will be so much more intimate and memorable.
Chose a hand-crafted Yellowstone adventure. Thomson's Yellowstone Summer Family Adventure was built by family travelers, for family travelers. Witness Old Faithful

erupt, explore the otherworldly landscapes of the

Upper Geyser Basin

and hike the winding trails of Yellowstone's

backcountry

. Trek

canyons

, float

rivers

and ride horseback through

sagebrush fields

with your naturalist guide. Shall we say, we left no stone unturned on this itinerary?
If you'd prefer to travel with just your family, we'll set you up on a private trip with your own personal guide, vehicles, activities and more. Just let us know.
Winter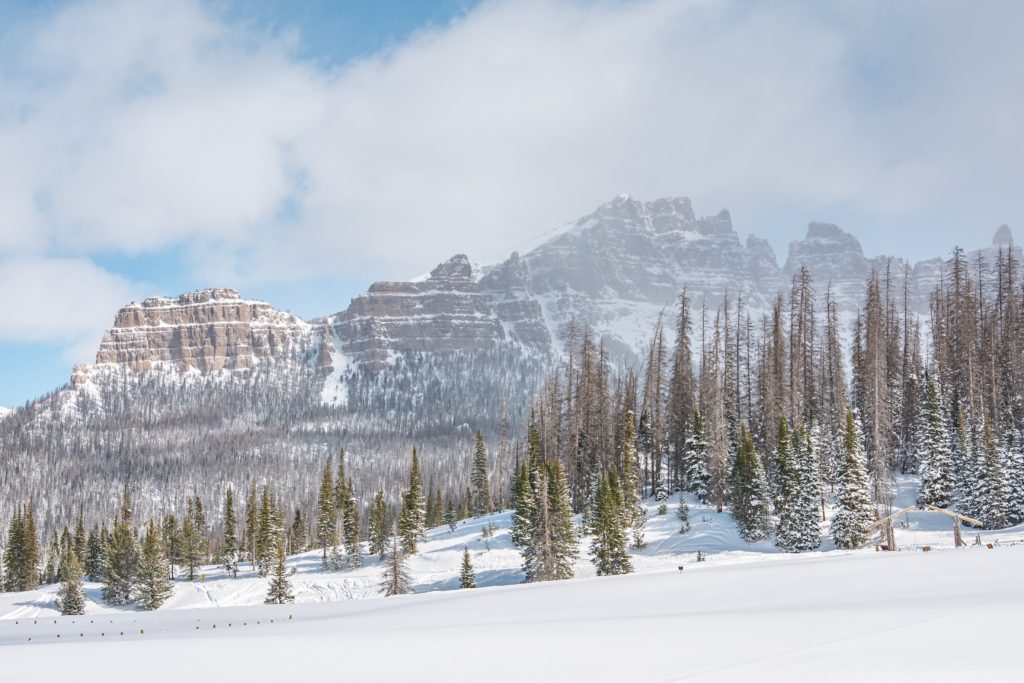 No landscape deserves the title "Winter Wonderland" quite like Yellowstone. The park offers a one-of-a-kind blend of geothermal features, ethereal snowscapes and small crowds that make it a magical place for adventure.
While it's challenging to navigate the park's winter terrain, an experienced travel partner like Thomson takes that into account when planning a trip. We'll send you an experienced guide who knows how to handle the snow. We think guided travel in wintertime Yellowstone is for the best – after all, the National Park Service recommends guided excursions if you want to see Old Faithful, the Grand Canyon of Yellowstone, the Upper Geyser Basin and other popular destinations.
December High/Low Temperature: 26° / 4° Fahrenheit
January High/Low Temperature: 28° / 3° Fahrenheit
Here are some key insights into Yellowstone in the winter.
Wintertime Activities
Few people see Yellowstone's frozen waterfalls and snow-capped geothermal features. On our Yellowstone Winter Wonderland Family Adventure, you'll see a little bit of everything while snowshoeing, swimming, sledding, sleigh riding and more. Merely being in the park is a novel experience for family travelers!
Smaller Crowds
Fewer travelers visit Yellowstone during the winter season, which tends to mean less expensive flights and less traffic in the park. We can't say anything about traffic jams, though (looking at you, bison herds!).
Gorgeous Landscapes
While summertime Yellowstone has an iconic personality, so too does wintertime Yellowstone. It becomes a paradise with its own distinct atmosphere and peacefulness. The mist rising from geothermal features give the park an ethereal feel. And when you're on a safari expedition in the "American Serengeti" of Lamar Valley, you'll experience plenty of quiet, peaceful moments with the wildlife.
Ghost Trees
"Ghost trees" form near the Firehole River when geothermal steam turns into snow and sticks to tree branches, making them sag like phantoms. It's a remarkable sight that's only possible because of Yellowstone's unique thermal features.
Epic Wildlife
Wildlife often migrates to lower elevations in the winter. Bighorn sheep, elk and coyotes can be seen throughout the park, often near warm geysers and hot springs. Make sure to bring your binoculars! When you travel with Thomson, your guide will help you identify signs of wildlife, such as otter slides and deer tracks.
Let it Snow!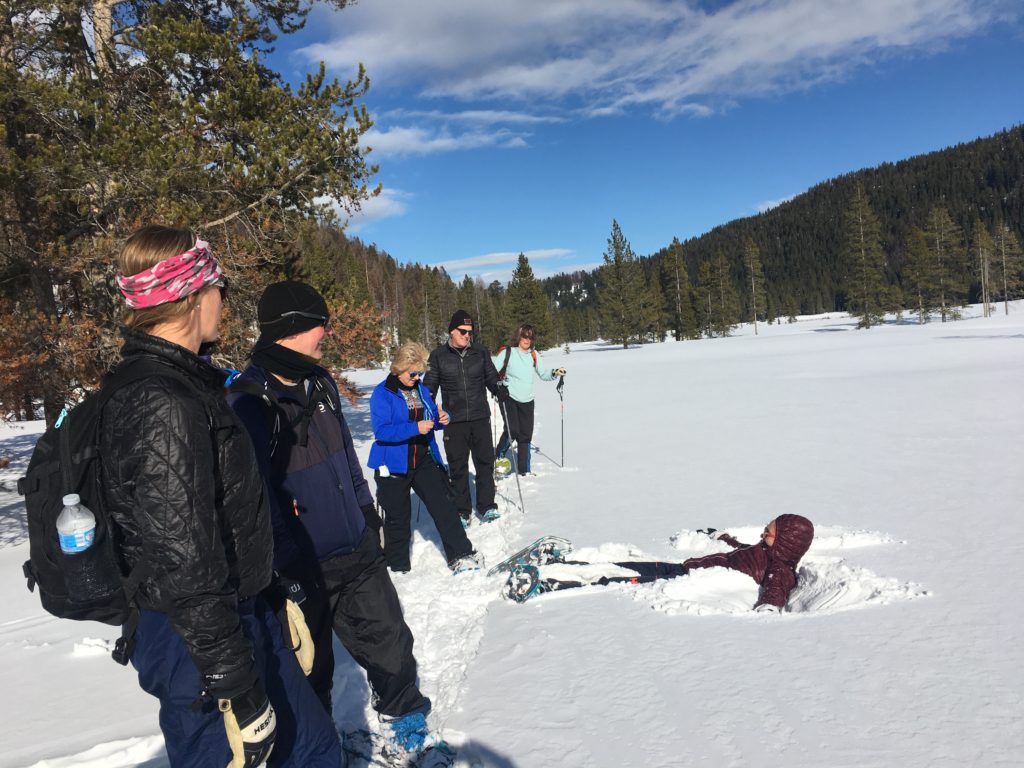 The amount of snowfall in Yellowstone fluctuates, though the average is 150 inches a year. This fluctuation occurs because the park sits on a plateau at 6,000 feet above sea level, where the conditions are more likely to be unpredictable. In any case, you should expect plenty of snow in the wintertime.
Brrr!
Sub-zero temperatures are common at night and at higher elevations. However, warming huts are available throughout the park, and our guests always stay in heated lodges. Whenever you're adventuring outside, your guide will likely have hand warmers in case you want them.
Tips for Traveling to Yellowstone in the Winter
Have a plan. Thomson's Yellowstone Winter Family Adventure is designed with families in mind. Ample downtime, safe excursions and family-accessible activities are the staples of this trip. We've scheduled the snowshoeing, ice skating, sleigh riding and cross-country skiing You just have to let us know you're interested!
Be prepared for swift changes. Because the park sits on a plateau at 6,000 feet above sea level, the atmospheric conditions are more likely to be unpredictable. You should always prepare for sudden changes in the weather, no matter what season you travel in.
Dress in Layers. This is especially important if you want to get active with skiing, snowshoeing or hiking. Make sure to bring a windproof, hooded outer layer and long underwear, along with your base layers.
Avoid wearing cotton. Jeans, sweatshirts and other cotton items absorb sweat, and will turn into refrigerators the longer you spend outside.
So, when is the best time to visit Yellowstone?

Families have a tough choice, because neither summer nor winter are "better" than the other. It all depends on what you're interested in!
Summer: It's the Yellowstone you're familiar with – warm, gorgeous and sprawling. You can see the park's most notable sites, enjoy beautiful hiking weather and have access to activities like rafting, swimming, horseback riding, kayaking and more on our itinerary. Just be prepared for thunderstorms and the park's busy season.
Winter: It's the Yellowstone of your winter dreams – snow-topped, quiet and meditative. Make memories with your loved ones in this magical place with wintertime activities, smaller crowds, epic wildlife and lots of snow. Just make sure you dress adequately and work with a guide you can trust.
Want to learn more about the best time to visit Yellowstone? See what you can do on our itinerary pages or send us an email to discuss your interests!