Visiting Ireland is easy for families of almost any age. For families also looking to get active, good news:
Southwest Ireland's rolling green hills, national parks and medieval cities are filled with plenty of opportunities for cycling, hiking, sailing and more. Maybe that's why our Ireland adventure for June 2021 has already sold out! See all available travel dates here.
Here are some family-favorite adventure spots in Southwest Ireland, and why you need to see them with your loved ones.
The Castles of Southwest Ireland (Bunratty and Ballyseede)
Southwest Ireland is filled with an abundance of castles. Few are more gothic and imposing than Bunratty Castle, a 15 century tower house and the most authentic medieval fortress in all of Ireland. Walk through the castle to see the large banquet hall, kitchen, bedrooms and even the dungeon!
Why you need to see it: What kid doesn't love a towering brick castle? Bunratty's turrets and battlements capture the classic look and feel of medieval Ireland. A walk through the grey stone halls is an epic fairytale moment that lasts in the heart of children and families alike.
Ballyseede Castle, located in the native woodlands of County Kerry, is another authentic fortress dating to the 16th century. While it once housed earls and lords, now it can house you and your family!
Families can stay overnight in this authentic castle-turned-hotel, where ivy climbs over the outer walls and the rooms are filled with the feeling of Renaissance. Enjoy tea and scones during your stay!
Why you need to see it: The battlements and towers at Ballyseede are only part of the medieval appeal. Inside, this castle-hotel has been given the royal treatment: spacious drawing rooms, ornate cornices and marble fireplaces adorn the rooms, worthy of a king.
Plus, donkeys and friendly dogs roam the grounds. Mr. Higgins, the resident Irish wolfhound, loves to play with the kids. Einstein, his sidekick, loves to catch stones!
Killarney National Park
Killarney National Park's ancient forests, mountains and lakes are a quintessential part of the Irish landscape. Local critters include red deer, badgers, pine martens, silka deer and the red squirrel, among others. It's a sprawling park with plenty of options for outdoor adventure.
Let's not forget about the Gap of Dunloe, the world-famous mountain pass separating MacGillycuddy's Reeks mountain range from the Purple Mountain Group.
Why you need to see it: The woodlands of Killarney are a beautiful and rugged place for some family cycling. The paths are well-maintained, and they wind past castles, lakes and ancient forests – children sometimes say it's like an adventure through an enchanted land.
After dismounting, you can spend some time on a boat in the Upper Lake, then climb aboard a horse-drawn carriage to ride through the Gap of Dunloe.
This cycling-boating-riding route offers a broad view of the incredible diversity of flora, fauna and landscapes that Killarney has to offer. It's an epic adventure, and all in one afternoon!
The Dingle Peninsula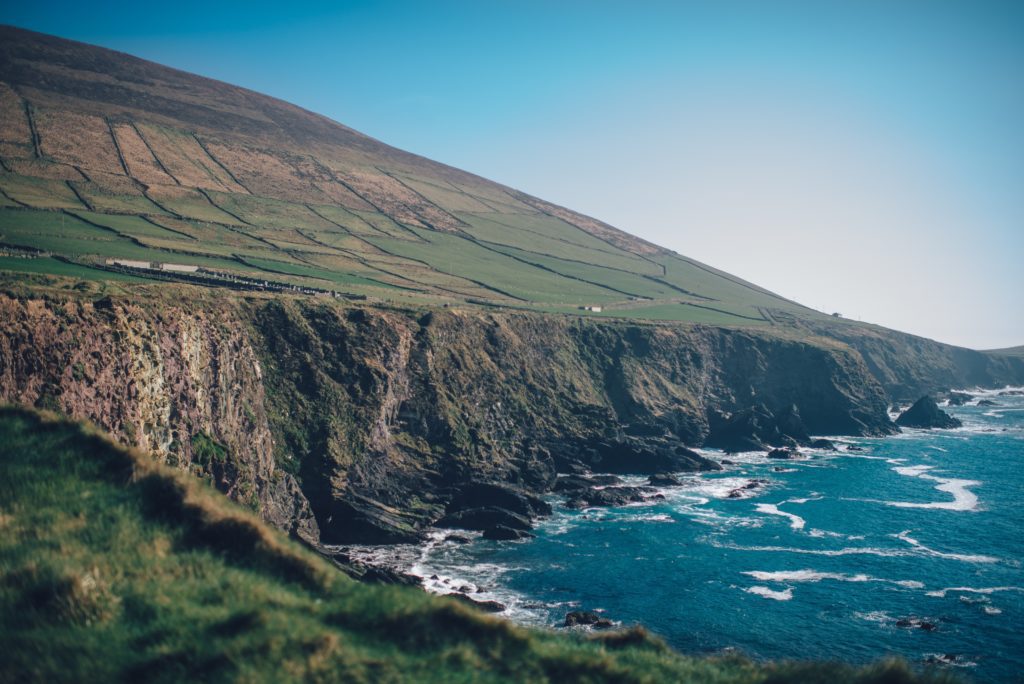 One look across the slow rise of the seaside plains on the Dingle Peninsula, and you'll agree: this is a magical place. So much of what makes Ireland feel like Ireland can be found in these rolling green hills, colorful towns and charming coastlines.
Outdoor adventure abounds here as well. Starting off on the windswept, white-sand shores of Ventry Bay, families can hike up to the ruins of Dun Beag Fort, an amazing stone structure built around 500 B.C. The path continues to the ancient Fahan Beehive Huts, sitting below the sweeping sides of Mount Eagle.
Down in the town of Dingle are colorful art galleries, craft shops and some of Ireland's friendliest people. Check out the waterfront to see the statue of the harbor's longtime resident, Fungie the dolphin.
Why you need to see it: This quaint slice of Ireland is cozy, relaxed and quiet. And when the mist settles on the sailboats in the bay, a sense of tranquility settles with it.
This peaceful getaway has enough adventure to keep the kids busy, too. Families can visit a local sheep farm on Kerry Way, where sheep dogs run through the fields to show off their herding skills and families can learn about the farm's traditional craftsmanship.
West Cork and Kinsale
No adventure in Southwest Ireland is complete without a visit to West Cork. This region's rugged coasts, undulating hills and vibrant little towns have a quiet countryside charm to them. The opportunities for time on the water are plentiful, thanks to calm waves and secure bays.
Among the area's most exciting spots is Kinsale, a small fishing village with buildings painted in a diverse palette of colors, including lime green, vermillion and sky blue. The Kinsale Harbor has been a favorite spot for sailors since the 16th century, owing to its gorgeous waterways. Located a short distance away is Charles Fort, known as the largest star-shaped fort in all of Europe.
Not enough castles and forts yet? The kids will love Baltimore Castle, located in the town of Baltimore. This pirate exhibition is filled with tales of the legendary pirate raid of 1631. Kids can explore and even dress up like a pirate themselves!
If you're looking for something that's more off-the-beaten-path, it doesn't get much better than Inish Beg Island. This private estate is filled with local wildlife, tranquil waterside trails, gardens and woodlands. Expect to make plenty of friends along the way: some will be heron, sheep and ponies!
Why you need to see it: The cliffs, coves and green fields of the West Cork coastline leave most travelers breathless, and for good reason. Children and adults alike can admire the grand scale of the coasts and the beauty of the rolling waves on the cliffs.
These coastlines are even more dramatic when seen from a kayak! The waters in West Cork are a leisurely place to get out on the water and enjoy the scenery, sea birds, seals and edible seaweed – yes, really! Adventurous families can also opt for a guided sailing adventure, where they will learn the basics of sailing and get their sea legs.
Thinking about traveling to Ireland? Want to go? Tell us what about the country excites you most on our Facebook and Instagram. Learn more about our Southwest Ireland adventure here.